If you want to know about the art of skunk trapping, you should first know what kind of animals they are. How do you identify these animals and how to trap them once you know once you spot skunk infestations at your homes? The following article will give you a reasonable amount of clarity on these matters.
What are skunks? They are mammals that belong to various sizes and colors. Their unique feature is that they spray a liquid in the areas where they visit. This liquid has a strong smell, and you can come to know of skunk infestations at your place when you experience this strange odor. They are anywhere between 40 and 94 cm long. While their bodies are quite long, their legs are short and muscular. Their front claws are long and sharp to enable them to dig in an expert manner.
Though there are many species of skunks available all over the world and the United States, only two of them are highly popular. They are the striped skunk and the spotted skunk. Skunks love to reside underground, in deep holes. Hence, if you are planning to set up a skunk trap, you have to choose areas that are beneath your homes and gardens. They love to eat your plants and vegetables; hence if you want to master the art of "how to get rid of a skunk", you should lay traps in almost all the areas in your garden.
If you want to become an expert in skunk trapping, you should know to attract the animal properly with proper baits. So what foods do the skunks eat? They are omnivorous and feed on leaves, grass, insects, their larvae, eggs of other insects, worms, lizards and all other kinds of garbage.
Identifying skunk infestations for effective skunk trapping
Skunks can make dens in the trees, and they can also dig deep burrows underground. You should be able to spot these infestations before you think of ways to how to get rid of skunks.  Your gardens and homes may be infested with skunks if you experience any one or all of these problems:
Holes all over your garden lawns
Damaged plants and vegetables
Prints of sharp claws on the soil
Scattered garbage cans
Disturbed houses of pets and poultry
Foul smell that comes from a liquid sprayed from the anal glands of the skunks
How to get rid of skunks
After knowing what skunks are and how to look for their infestations, the next and obvious step is to lay proper traps so that you can capture them successfully. Before you proceed to your skunk trapping exercise, you have to think about two important questions – how to trap a skunk and how to kill a skunk. While the first question is easy to answer (thanks to the availability of live cage traps), the second question is quite challenging, indeed! Killing skunks is an illegal activity, and you should never resort to this measure if it not allowed by your respective state.
The rules of skunk trapping
If you are thinking of effective ways of how to get rid of a skunk, you have to exercise a considerable amount of care and precaution while laying a trap. Trapping skunks can be quite challenging if you don't follow the basic rules of this process. Here are certain factors that you need to consider before you think about how to get rid of skunks.
Choice of trap – It is highly recommended that you choose humane and safe traps if you want to be successful in your trapping project. Never opt for lethal or killing traps as your focus should always be on catching the animals live and releasing them into permissible areas. One-door and two-door traps are the most common these days. When you choose a trap of one of these types, you can be sure of immediate animal capture, in the safest and humane ways.
Placing the trap – If you want to know the tricks of how to trap a skunk effectively, you have to lay several traps in areas like hollows of trees and logs, near woodpiles, driveways, porches, burrows and the like. Any point through which the skunk enters needs to be thoroughly sealed for further damages.
Choose the right bait – While skunks eat a lot of variety of foods, you can choose baits like beetles, grasshoppers, worms, bird eggs, rodents, frogs, fruits, berries and mushrooms, as they are enjoyed by the skunks. If you choose these baits, you can be assured of the success rate of your rap.
Setting the trap – Skunks are nocturnal; therefore, setting the trap during the evening hours is considered to be ideal if you want to be sure of your catch.
Watching out – Trapping skunks is an activity that doesn't get over once you set the traps; you have to track the same closely. Once you catch the animals, you have to act immediately and relocate the trap.
Relocation – When you are moving the trap, be sure to cover it with a cloth to keep the animal calm. Take it to a distance that is at least 10 miles away from your home and checks with your local authorizations for approvals, before you release the animal.
Caution – You should be very careful and patient while opening the trap to avoid bites or damage from these animal attacks. Once you follow these tips and steps, you will become an expert in the art of "how to trap a skunk".
How to get rid of skunks proactively
Wondering about how to get rid of a skunk infestation in your home even before you spot one? Prevention is better than cure, isn't it? The following steps will help you immensely in this regard:
Keep your gardens clean of rotten leaves and twigs
Never leave garbage cans open and unattended to for long
Installing fences that extend beneath the ground
Sealing all abandoned burrows/holes with adequate protection
Some good skunk traps that you can consider buying
If you are thinking about how to catch a skunk in the most effective way, you should choose the right skunk traps. While choosing a trap, we recommend you to always opt for the humane cage trap models as these are legally approved and safe for the animals as well. Trapping skunks can be easy when you choose one of these models.
This humane cage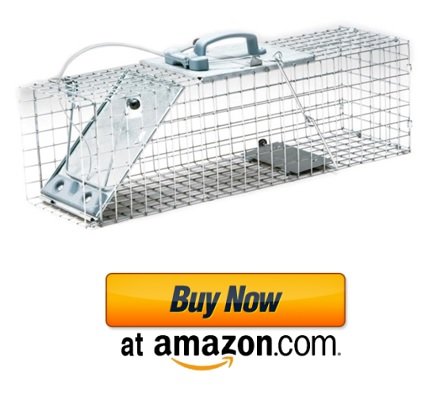 trap is one of the best humane traps available for capturing small to medium-sized pests. You can easily master the art of "how to trap a skunk" when you use this trap because it is easy to use and highly effective. One of the major highlights of this trap is that it can be used for trapping rabbits, skunks, minks, squirrels and other similar-sized pests. Here are some of the amazing features of this trap:
Easy set and release mechanism
Comes with a steel mesh that is resistant to rust and corrosion
Excellent door lock system that captures the animal immediately and safely within the trap
Comes with a carry handle and safe levers for easy portability and release of an animal
Spring-load door mechanism coupled with a swift trigger to act on the animal as soon as it enters the trap
Skunk trapping
is quite a challenging activity because you have to bear with the foul smell that comes from the anal glands of the skunks. Many times, even when you set up an efficient trap and catch the animal, you can stop it from spraying the liquid. This is where the spray-proof trap comes as a big blessing for you. For spraying the liquid, the skunk has to lift its tail. This trap is an expert in trapping skunks in such a way that the animal is not able to lift its tail at all. Some of the features of this trap are:
Made from high-quality metal, PVC and steel protection
Stops the animal from spraying the foul-smelling liquid
Comes with a spring-load mechanism which is eco-friendly
Comes with sturdy handles for easy portability
Are you looking
for a multi-functional trap that will not help you with skunk trapping but also help you get rid of other pests that damage your homes and gardens? This humane and live cage trap from OxGord is the right choice for you. It is one of the sturdiest and most loved traps in the industry today. This trap is easy to use and is very kind to the animals. Therefore, if you want to know how to get rid of skunks in the most humane way possible, you can invest your money in this product. Some of the nice features of this trap are:
Preassembled trap made from heavy-duty and sturdy steel
Easy set & release mechanism
Smooth internal edges that ensure captured skunks are not injured
Useful for catching rabbits, stray cats, squirrels, possums, racoons, moles, gophers, chicken and chipmunks as well
Easy portability, thanks to the trap's Solid doors and handle guards
Wondering about
how to get rid of skunks at your homes and gardens? Try this exclusive trap from JT Eaton and witness visible results instantly. Trapping skunks is now an easy task thanks to the brilliant design of these traps. It is easy to use and has a high success rate, too. Here are some of the attractive features of this trap:
Made from high-quality and durable polythene
Comes with spring-load mechanism for quick capture of the animal
Easy release door mechanism
Humane trap designed to capture animals safely
Skunk Repellent
A skunk repellent is used mostly when you want to control further infestations from skunks. While traps help you to catch animals that are hidden underground in the burrows and dens, repellents deter these skunks away. Using the right type of skunk repellent is very important if you want desirable results. To make the right choice, you should analyse the extent of infestations and look for areas where these pests visit frequently. Some repellents can be used only indoors while can some can be used only outdoors.  A skunk repellent is classified into three main types:
Liquid spray – This skunk repellent is used for directly applying on areas like garbage cans, plants, woodpiles and grass. This can be used outdoors mostly as it is not advisable to use this liquid indoors, especially if you kids at home.
Granular Repellent – When you use this skunk repellent, you create a barrier around specific areas like pathways, gardens, sheds, flowerbeds, porches, etc. and keep skunks at bay.
Electronic repellent – This is considered to be the most effective skunk repellent ever. It is durable and can keep skunks at bay for a very long period. You can use it indoors and outdoors without fearing for the health of your kids.
A natural skunk repellent can also be used to scare the pests and deter them from attacking your home or garden. Cayenne pepper, peels of citrus fruits and hot pepper spray are some of the effective natural repellents that you can use to control skunks in your area.
Which skunk repellent to buy?
There are many skunk repellents available in the market. We have mentioned a couple of products that are worth trying to keep skunks at bay.
Havahart Critter Ridder 3146 Animal Repellent
If you are
looking for a natural skunk repellent that is devoid of chemicals and toxic gases, this is the right solution for you. It is an organic repellent and consists of ingredients like pepper, peperine and capsaicin. This repellent works for about 300 sq.feet and can keep your areas free of skunks for at least 30 days for the first use. It is easy to use and comes with a shaker pout for easy application. This repellent also works effectively for squirrels, cats, groundhogs, raccoons and chipmunks.
Expel Natural Animal Repellent and Mice Repellent
This is a skunk repellent that is made from non-toxic and biodegradable materials, gives out a weird smell and taste that keeps skunks at bay. It is eco-friendly and doesn't cause any dangers to your family members. You can use it effectively for outdoors for various kinds of application. When you use it for the first time, skunks can be kept at bay for at least 30 days.