Saddle chairs may be something completely new for you or you are looking to get another one already. Whether the person you are we have reviewed best saddle chairs you can get and picked the greatest one for each price category.
Nowadays practically all people have most of their day spent sitting at the desk. This everyday life is developing different problems with back and posture. We spend lots of money at home and workplaces to achieve the best ergonomic standards we possibly can. However, there are still problems even in the most ergonomic offices all around the world.
First innovation to come to fix the problem was Standing desks. Long periods of standing time may put a lot of pressure on your lower back and may not be as comfortable as it may seem.  However, now there is a better alternative – Saddle Chairs.
Saddle chair's idea behind it is to mimic the seating position you would normally have on the horse, which may be compared to both sitting and standing at the same time without having side effects of both. It makes sure you are sitting in a straight position, your hip and knees are put into 135° angle (on the contrary to 90° on regular chairs) and is perfect for moving environment where you need to stand up a lot whether that be at cash registry, dentistry or even working in your own garage. The most popular reason for switching to saddle chairs is the users feeling generally healthier in the back region as well as legs. In addition, a doctor would tell you that your lumbar vertebrae are in the right position with the back forming correct curve ( as well it improves blood circulation in the lower back). Saddle chairs also improve posture, reduce swelling in the feet, train core muscles, increase lung volume as the wide hip position opens up the chests cavity and increases diaphragm.
Saddle chair is generally higher than standard chair which means your desk should be a bit higher than the regular one. Most of the saddle chairs have adjustable seat height mechanics as well as casters for moving.
Best Saddle Chairs
There are hundreds of different saddle chairs to choose from and we have spent more than 40+ hours of reviewing all possible producer chairs there are to cut it down to TOP 5 best saddle chairs you can buy nowadays.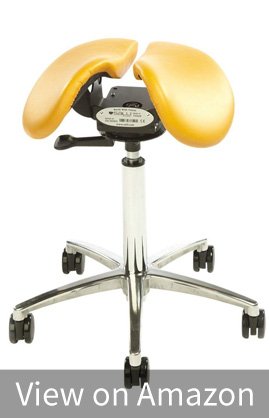 Salli is one of the first companies completely based on producing different ergonomic saddle chairs for any need. After getting our hands on specifically Salli's Swing saddle chair we were absolutely sure this is the best product there is on the market. With patented saddle seat with perfect form and angles of the seat, you will be wondering how it can be even more comfortable than some of the fancy ergonomic chairs. The split seats are great for relieving stress from pressure points in the genital region for women and men alike. The padding and material are of the highest grade and will last a lifetime. Because of its 65 mm casters, it is extremely maneuverable if you require a lot of movement during your office hours (be sure to pick either hard-treat casters for work in areas with carpet or soft tread for solid or wood floors).
Salli is proud of its work and provides a 10-year warranty on most of its products including this one. So you can rest assured it won't break in a short future and you can use it in the harshest work conditions and it will still last for long.
If you have not yet tried to sit on one of those you may be missing on your new favorite seat which will make you healthier every day. Happy customers even report of having stopped using the traditional chair at all. In addition, you can choose from almost 20 different designs which would suit any design environment and give that unique looks for your workspace.
[su_table]
Pros
Cons

Extremely comfortable design
Materials used are of the highest quality
10 years of warranty
Split seat design

Most expensive saddle chair producer on the market
The saddle locking mechanism may be hard to loosen
[/su_table]
Gravitonus is a company with a long lasting name in the field. This saddle chair surprised us with its quality design and material choice at the price point. It is made of superior quality genuine leather as well as metal used is polished til perfection and mechanics work perfectly and easy to put together. Sitting height can be changed from 20 – 26 inches from the floor by using a gas-lift system. Design is similar to the previous model with split seat design with an extended inclined surface, which helps to transfer sit bones strains more t the inner tights than other models.
For client choice, it has optional footrest for maximum comfort, which is crucial at working at very high tables and reaching highly located objects as well as suitable for an office environment. Wheels are optionally replaceable with gliders if necessary. It is possible to choose from a super hard seat for perfect posture or softer one for a bit better of a comfort. It is possible to choose from leather or ECO leather.
After the arrival of this chair, we noticed how great it looks. It has a great finish for the best possible looks and looks as authentic as it gets. We really liked the choice of the hardness of the material (but be aware the hardest material is super hard) which will get you to love the chair even more. The optional footrest is a great addition for it as reaching for more distant objects has never been easier on any different chair. We highly recommend this chair for any work conditions which requires lots of movement – you will be surprised how comfortable your work may be.
[su_table]
Pros
Cons

Great leather and metal quality
Beautiful  design
Extra optional footrest and gliders
Wide choice of the softness of the seat
Great for a mobile work environment

Can be less comfortable
Price still at the high end
[/su_table]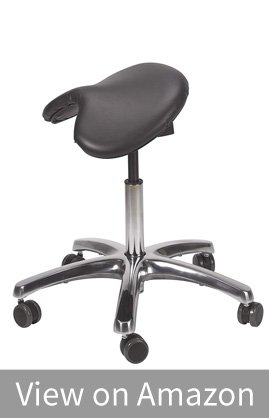 Looking by the price range lower our next recommendation is BetterPosture's ergonomic saddle chair. It is made of high-quality steel with long lasting construction. Very easy to maintain material which is of good quality and looks well for a long time. Includes gas lift adjustment mechanism which goes from 21" to 28". Plishes aluminum base distributes weight evenly throughout the seat and allows easy enough rolling on any surface.
Upon receiving the product, our attention was caught by the good quality material which surely will look good for a decent period of time. It is quite easy to move around with it and all the mechanical parts work just fine. What it is suffering from is its pad thickness which might be not enough for an average user. That might be compensated with an additional layer of yoga pad for sitting on it for a longer period of time. It is a good piece if you are looking for something affordable yet good enough to last for a long time and reap all the benefits of a saddle chair. On some occasions, customers have reported of it breaking in a short time and having problems with the warranty however, most of the customers are impressed by the price performance of this chair.
[su_table]
Pros
Cons

Good construction
Easy to maintain pleather seat material
Affordable

Pad material could be thicker
May not be as reliable as previously mentioned ones
Poor warranty service
[/su_table]
2xhome's Saddle Stool Chair with Back Support
Next on the list is 2xhome Saddle Stool Chair. In contrary to previously reviewed products, 2xhome product features adjustable backrest for extra comfort at little expense of having the perfect posture while sitting without it. This saddle stool features sturdy caster rolling base which. The material used is good quality PU leather.
Our experience
2xhome is not the highest quality saddle chair but is one of the best for the lowest price range. Its adjustment mechanism goes as high as standing position if you need to reach for things very high during your work on the expense if you want to sit really low, it may not go as low as desired. It has a decent amount of padding to feel comfortable for longer periods of time and is nice for the touch. Easy to assemble and has pretty good caster movement to move around. Looks of it are professional enough to feel confident about it even in the fanciest dentist offices.
The downsides are that it is lower price chair and may not last as long as you would like to. The wheels are made of plastic which may eventually break at some point. Also may not be comfortable enough for a short person as it is pretty high by default. Because of the backrest, you won't form as good of a posture as you would without having one.
[su_table]
Pros
Cons

Very affordable
Good quality PU leather
Professional looks
Extra backrest

Poor quality plastic wheels
Not as comfortable padding
The build is decent but not perfect
[/su_table]
Next product we would recommend on the lowest price point is Master Massage's saddleback stool. Features pneumatic-lift mechanism, 4-inch Small Cell Foam which is denser in comparison to other foams, hypoallergenic, waterproof upholstery, and a 5-year warranty.
Our experience
If you enjoy sitting on very soft seats then this chair may be for you. It's small cell foam really does well to get that sofa feel. It's hydraulics lets you go lower than other chairs, which may be better built for shorter people, however, may not go high enough for a person with a height of 5'5 and above. Wheels are not of the best quality, the same as the previous model. The 5-year warranty is made for cushion and not the whole chair. The lever for adjusting the height of the seat is located on the low back which may be uncomfortable if you need to raise up and down frequently. The size of the seat itself is bigger than previous ones, which results in not achieving full potential saddle chair of having perfect posture (as well it may be uncomfortable for some).
Overall this seat is at the lowest price and you usually get what you pay for. However, it may be super comfortable for some people and may last long enough for you to be really happy about it. If you do not wish to spend a lot to try sitting on saddle chair – this may be the way to go.
[su_table]
Pros
Cons

Inexpensive
Very soft stool padding
Waterproof upholstery
Adjustable to a very low position for shorter people

Poor quality wheels
Warranty is only for cushion
Not suited for people with a height of 5'5+
The large seat may be uncomfortable
[/su_table]



Summary

After reviewing over 20+ saddle chairs those are our TOP 5 picks accordingly for every price category. If you have already discovered the potential of the saddle chair and want to upgrade to the best possible option – choose Salli's saddle chair. It will serve long and you will be definitely happy about it for years to come (Well at least for 10 years while the warranty lasts). If you want a really good chair and do not want to spend around thousands of dollars for it – go for Gravitonus EZDuo chair. It may lack that edge of perfection of Salli's saddle chair, but is still excellently made and will definitely be a perfect chair for a long time. If you are looking at lower price points check carefully which one of those chairs may fit you better.

For new users of a saddle chair, you may feel discomfort for some period of time. In most case that is because of an already damaged posture of the person or lacking the muscles in certain parts of the body. Stay strong for the first few weeks and after you will understand how much of improvement a simple saddle chair may be for your well being.

Hope you enjoyed the 5 minutes read if you have any questions we will be happy to assist you.