Choosing the best sugar glider cage set may be a hard task. That is why our team has made full article on how to choose a cage for sugar glider, factors to consider and give recommendations on small or large sugar glider cage that you can buy.
Overview
Sugar gliders are nocturnal possums that resemble flying squirrels in their movement. They are known for their ability to glide through the air. Sugar gliders are named thus, because of their preference for sugary foods. Known for their highly acrobatic skills, these sugar gliders are seen as common pets in some parts of the world. They have a gliding membrane that stretches from their forelegs to hind legs. This membrane is called patagium, and it helps the sugar glider to keep them safe or to hunt for their food. When you have a sugar glider as a pet, you should also invest in a good sugar glider cage set up as well. These animals are quite active, and they love to climb and jump. Hence, you should choose cage that are of the right size and filled with the right accessories. This article will give you a basic idea about the types of cages you should choose for your sugar glider pets.
Factors to consider while choosing sugar glider cages
When you are buying a cage for your sugar glider, you should follow the below points, as it will help you to keep your pets entertained and occupied.
When you buy cage sets, ensure that they are made from the non-slip and non-toxic material. It is very important to check this baby sugar gliders have extremely delicate fingers and toes. They get hurt severely if the cage squeezes them.
Never opt for a cage that is made from cheap or galvanized metals. Sugar gliders have the tendency to lick their fur continuously to keep themselves clean. Therefore, they also lick the chemicals and cheap metals if your cage is made from them. This can lead to severe health issues in your pets.
A cheap sugar glider cage comes with epoxy coating, whereas the standard ones come with a high-quality of PVC coating. It is very important to check the coating material before investing your money in a cage. The epoxy coating comes out quickly and results in zinc poisoning for your sugar gliders.
Once you have chosen the right size and material, it is now time for setting up the sugar glider supplies in the cage. These supplies include but are not limited to the following:

Bedding to be put inside the poop trays/litter boxes (non-toxic paper is the best choice; never opt for pinewood or cedarwood shavings as it can turn to be toxic to your pets)
Water Bottles
Chew toys
Exercise wheels and more

Check for irritability of your pet's feet while choosing the material of your pet's cage. Cage sets that are made from bare wires can cause your pets to fall. Therefore, it is recommended to choose powder-coated or vinyl wire cages.
A minimum of three feet of vertical space is mandatory while choosing a cage. This is because your pets are going to keep climbing and jumping continuously when they are inside.
It is very important to choose cages that come with a highly secure lock structure because sugar gliders are intelligent enough to open their cages easily.
Top mistakes to avoid while choosing sugar glider cages
If your sugar glider is not happy or safe in a cage, the purpose of investing in it is defeated. Most of the pet owners commit the following mistakes while doing a cage set up.
Size – Always plan for the growth of your sugar glider. Most of the times, people go wrong in choosing the height and width of the cage. When you do this, there are high chances of your pets getting squeezed from within.
Not choosing supplies properly – It is a blunder to keep your pets idle inside the cage. When they are not challenged or entertained, these animals get into depression easily and face severe mental disorders. Therefore, ensure that you place exercise wheels, swings, tents, tunnels and other entertainment sources inside the cage so that your pets remain active and healthy always.
Lack of comfort – When you don't protect the wire floors in the cage with a plastic mesh or any other soft, non-toxic material, it can cause problems for your pets. Sugar gliders can experience pain or deformity in their toes when they get hurt this way.
Commonly used sugar glider cage accessories
The cage should be fitted with proper accessories and supplies so that your pet doesn't feel bored or frustrated while it is inside. Some of the common supplies that are required for your cages are:
Bedding and litter box (bedding should be preferably from corn cob, carefresh or aspen shavings)
Water bottles are better than water bowls, for hygiene purposes
Ceramic or metal food dishes so that pets don't chew them up
Safe and entertaining exercise wheels to keep the nocturnal animals quiet during the night
Trimmer tunnel and pouches for nail trimming is important, as it is mandatory to cut and trim nails of your sugar gliders regularly
Tents for safe and active playing of sugar gliders
First aid kits and hygienic cleaning supplies
Recommended sugar glider cages for sale
When you want to find most suited cage, you have to choose from most reliable brands. You should first check the quality of the material and you should avoid tempting yourself from investing your money in a cheap cage that is made from toxic or unsafe materials. The safety of your sugar gliders should be your ultimate aim and you should work towards it.
This is considered to be the best if you are looking for easy cleaning and ultimate safety of your pets. It comes with plastic pan floors so that sugar gliders don't slip when playing. It has enough space to accommodate shelves that can be adjusted and removed as per your requirements. This is a cage which gives you great flexibility to use it the way you want. The horizontal wire spacing of this cage is of ½ inch, and it is ideal for the pets to move and jump about as they please without getting bored. This type of cage comes with a happy feet ramp cover as well, to provide more traction and balance for your pets.
This is one of those few sugar cages that come with certain accessories. When you buy this model of cage, you will also get four plastic cups and three wood perches for better management of supplies. This model comes with a sliding drawer and bottom grille, which make cleaning an easy process. Also, this cage is very easy to assemble, thanks to its wrought iron construction. Since it is about 31 inches long, this cage can be used as habitats by canaries, parakeets, finches and the like as well.
This is a cage that comes with a powder-coated wire finish to provide ultimate safety for your pets. It also comes with four feeding bowls and a couple of side doors. This is one of the best sugar glider cages when you are looking for portability because it comes with four rolling casters and two secure locks. In this cage, your pet will stay active and entertained because there are a ladder, bench and a couple of interior wooden perches as well inside this cage. All these features can be easily adjusted according to the needs of your pet.
This is an excellent cage that comes with two front doors
and a grated wire floor that can be removed for cleaning purposes. As the name indicates, this cage comes in three levels that have a wire-free cage body. Wire shelves and ladders, safe epoxy-coated finish and a slide out pan assure you of the safety and hygiene of your pets. The highlight of this cage is that it is not only safe for sugar gliders but can also be used for chinchillas, ferrets, rats, mice and hamsters. This cage comes with ½ inch bar spacing and ½ inch cross bar spacing to enable climbing and jumping movement of your pets.
This is an excellent cage for your sugar glider that comes with two huge lift-up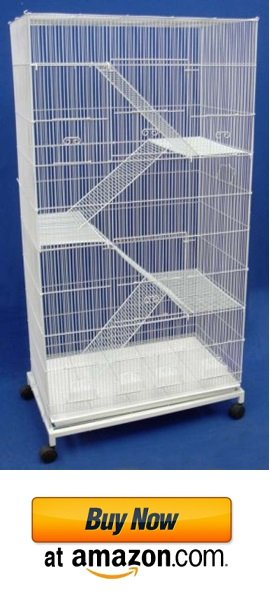 doors and two small doors. Though it comes with an epoxy coated finish, it is safe for as it is non-toxic.  It comes with a lot of features like six cups, six feeder doors, four perches and a slide-out bottom tray that can be removed and adjusted as per your convenience. It also comes with a stand with heavy duty caster wheels, which it makes it easy for transporting it to various locations as per your requirements.  It is important to read the instruction manual carefully before setting up the cage properly so that the accessories don't give away. Though this cage is not very sturdy, it proves to be very useful even for iguanas, if set up and installed well.
Sugar glider toys
When you plan to have sugar gliders as pets, it is not enough if you take care of their food and cage supplies. It is also very important to ensure that they are mentally fit and active. If you don't keep these pets entertained, they get bored easily, and this can lead to mental disorders in them.  Investing in safe and edible sugar glider toys is a wise decision if you have sugar gliders as pets.  Any edible toys that you use for your other pets work well for sugar gliders as well. However, you should take care of the following points:
Toys should not have anything that can tear off and choke sugar gliders
They should not have colorful elements that could turn toxic for the pets
They should not have any sharp objects that can hurt the tail or body of sugar gliders
Though slightly expensive, toys made for human babies are highly recommended for sugar gliders as well
Constantly monitor your pets to see if they are comfortable with the sugar glider toys
If you are getting wooden toys, ensure that you clean them thoroughly with soap and detergent at least once in two weeks
Exercise wheels are considered to be the sugar glider toys
Recommended sugar glider toys
Scooter Z's Bird and Sugar Glider Toy Klik Klak Ball
This sugar glider toy comes with acrylic colors and plastic balls of various colors. It is made from non-toxic materials which make it safe for sugar gliders to chew on. If you want to provide some treats to your sugar gliders, you can hide them among these balls. Your pets will love to find them and chew them. It makes a lovely noise which entertains sugar gliders to a great extent.
12" Diameter Silent Runner Exercise Wheel
Exclusively designed for female rats and sugar gliders, this exercise wheel comes in an attractive, bright orange color. It comes with two bearings that enable the wheel to spin in a very silent but effective manner. The running surface is 3"wide, thus giving ample space and comfort for sugar gliders while moving about.
Sugar glider characteristics
Sugar gliders are distinctly different from other pets in two aspects – gliding membrane and their fur. Their fur is quite thick and comes in colours of grey or brown. They have origins in Australia and are still commonly found on this continent, Indonesian Islands and New Guinea. The maximum weight of a sugar glider is 140 g (male) and 115 g (female). They also have a unique black stripe that runs from its nose to its back. They are omnivorous and mostly feed on insects, acacia gum, manna, eucalyptus sap, lizards, small birds, nectar, bird eggs, pollen, fruits and fungi. They are very social animals; therefore, you have to choose the right accessories in its cage, when you bring it home as a pet
Sources: