The loss of a pet is indeed one of the most painful moments in your life. Pet cremation urns are one of the better ways to allow your pets rest in peace – whether those be cat urns or dog urns. They come in various sizes, shapes and designs to suit your requirements and budget. If you are looking for some basic information about dog urns and cat urns, this article will give you guidance about the same.
While choosing cat or dog cremation urns of any type, you should exercise due care and sensitivity. This is because these urns are not just products; they carry memories of your pets. The dog urns that you choose, for example, will not only hold its ashes but will also remind you of your pet's personality. Earlier urns were all of the similar types. Only the size would vary depending on the size of the pet. Today, the scenario has changed completely. Lots and lots of people are becoming increasingly aware of the sensitive and emotional value of these dog urns and cat urns. Therefore, innovative designs are available for you when you plan to choose to buy pet urns.
How to choose good pet cremation urns
Pet cremation urns offer a great resting place for your dear animals that provided you excellent company during their lifetime. When you choose proper pet urns, you get immense mental relief. This is why it is very important to choose them properly. Some important points to consider when choosing urns are:
Purpose of the urn
The first and foremost point to consider while buying urns is the purpose. Whey do you need these urns? You can use a pet urn for these purposes:
For permanent display at your home (metal, wood, ceramic, marble and stone are great choices of materials)
Urns for pet ashes that are going to be displayed in columbarium niches (choose the urn size based on the size of the niche)
Cat urns for ashes or pet urns for small dogs with the purpose of scattering the ashes in various places (easy to carry urn with a removable lid is a good option)
Dog urns or cat urns that can be buried underwater or land (use materials that are compatible with these type of burials)
Urns for pet ashes that you can use for keepsake purposes (mini urns and cremation jewelry are perfect storage choices)
Materials of urns
Once you have decided on the purpose of the urn, it helps you to decide the materials of the pet urns. If you are looking for permanent urns, you should opt for materials like stone, granite, stainless steel, aluminium and bronze. Cat cremation urns and cremation dog urns that need to be buried under the water or ground should be made from biodegradable material. You can opt for urns made from Himalayan rock salt, coconut shell, Mulberry bark papers and bamboo, for this purpose. If you are looking for dog urns or cat urns for scattering pet ashes, you have to opt for lightweight materials like silk.
Styles of pet urns
You have to choose urns that are based on the style and personality of your pets.  You can opt for handcrafted, wood, biodegradable, motifs and other kinds of pet urns for small and adult pets. Want to add a personal touch on your urns for small dogs? You can opt for cremation jewelry, personal engravings and other personal quotes on the urns of your pets.
Tips for buying pet cremation urns
Yes, we do understand that you might be grieving from the loss of your pet. However, that grief shouldn't stop you from making a wise decision to allow your pets rest in peace.  To help you choose pet cremation urns properly, we have listed down a few tips below. When you follow this, you can be assured of choosing the right options for your pets and also be filled with memories of your dear ones, long after they are gone.
When you are choosing urns for small dogs or big pets, you should always concentrate on getting the size right. Measure your pets accurately and decide on pet urns that are slightly bigger than the actual weight, so that you can place your pets inside comfortably.
Decide the theme of the dog urns and cat urns well in advance. If you want to pay homage to pets that worked in the armed forces, you can choose patriotic urns. You can also choose traditional or modern urns to choose the personality and hobbies of your pets.
Have clarity on the budget that you wish to allocate for your pet cremation urns. They come in various sizes, styles, themes and designs. Therefore, there are huge fluctuations in their prices. Choose urns that fall within your budget limits and those that provide you full value for your money.
Do you plan to travel with your pet urns to scatter ashes? If yes, you need to choose materials that are safe, easy and lightweight to enable quick movement. Some metals are not allowed during flight journeys. Hence, you need to plan these things well in advance and invest in a travel-compatible material, while choosing dog urns, cat urns or any pet cremation urns.
Some recommended pet cremation urns
There are lots of pet urns available at your disposal because they come in various sizes, shapes and price ranges. However, we have listed some of the famous and most-bought pet urns herewith, to make your decision-making process simpler and quicker.
If
you are looking for beautifully designed dog urns that will help you get over the loss of your beloved pet, this is one of the best choices for you. This cremation dogs urn can also be gifted to a close friend or relative who is suffering from the loss of his/her pet dog. This is urn is 85 cubic inches in size and is 5 inches tall. It also comes with a provision for inserting your pet's photo. These pet urns for small dogs are excellently detailed and come with a touching message, "Dogs leave paw prints on your hearts forever". When you choose these dog urns, you are relieved that your pet is now resting in a classic place where it will be peaceful forever.
These
are small pet cremation urns that are coated with silver plating. They are exquisite and handcrafted using sturdy brass metal. These can be used as dog urns or cat urns. If you are looking for urns for pet ashes, these urns are great choices. This is because they come with a lid that is nicely threaded, but easily removable. These cat cremation urns are available in various sizes (70, 40 and 25 cubic inches). These make for great home display as well as they come in a very traditional and beautiful design. The lid of these urns is very tight, and you can be assured of secured closure of the ashes of your pets. In a nutshell, these urns have been designed to create wonderful memories for you.
Are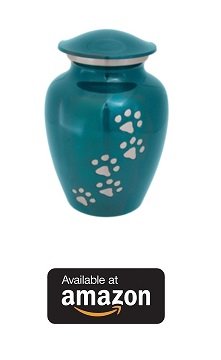 you looking for urns for your pets that weighed less than 175 pounds? These pet urns from Classic Paws are great choices for you. They are classy, compact and elegant. Made from handcrafted brass, these cat cremation urns come with paw prints on them, which makes them look a class apart from the rest. They can be used as cat urns for ashes scattering as well because they come with a lid that is removable and highly secure. One of the best parts of these pet cremation urns is that you can engrave your personal thoughts and quotes about your pets, on them. This way, these urns for small dogs are not only useful for storing the ashes of your pet carefully, but also for gifting you priceless memories of your pets.
These
ebony-colored urns are great choices if you are looking for classy pieces of dog urns or cat urns, you can invest in these. They are very easy to use and come with a highly secured threaded lid that provides ultimate safety to the ashes of your pets. These are handcrafted and can be used as cat cremation urns or cremation dogs urns. You can use these urns to engrave your personal messages depending on the personality and hobbies of your cats or dogs, to make them more personalized. These pet urns are medium sized and can hold pets that are up to 40 lbs of weight. These cat cremation urns come in three sizes – small, medium large. You have to choose the right size to fit your pets comfortably inside these. Your pets deserve classy cremation urns, don't they? Therefore, investing in these is a good decision.